"Rebar" is what gives concrete its strength, without it, the buildings, bridges and the cement structures we depend on everyday would simply break apart with the slightest force - just like your wooden door casing when an intruder gives it a firm kick. That is why we call our product the REBAR DOOR SECURITY DEVICE; our universal fitting HIGH SECURITY door frame and jamb reinforcement strike plate kits laminate your existing door frame with HEAVY DUTY SOLID 14 GAUGE STEEL giving your door frame, jamb and casing INSURMOUNTABLE KICK-PROOF STRENGTH! It is SOLID STEEL Armor for your Door Jamb! Every REBAR Door Security Device is backed by our 100% LIFETIME GUARANTEE.
Video Courtesy of YouTube
Video Courtesy of YouTube
 YOU WILL NOT HAVE ENOUGH TIME TO REACT WHEN YOUR DOOR FRAME IS NOT SECURED  WITH A HEAVY DUTY STRIKE PLATE
Without a REBAR Door Reinforcer door jamb security device installed on your door frame, the average amount of time it takes for a determined criminal to kick-in your door is 1.7 seconds. The  home invader could be in your home violating you and your loved ones before you even have a  chance to realize what was going on. Criminals that specialize in home invasion burglaries are  counting on the element of surprise to gain control of their victims, leaving you and your loved  ones with no fighting chance at all.
The REBAR DOOR SECURITY DEVICE was developed to effectively STOP residential door kick-ins and use state of the art cutting edge technology to produce the most advanced HIGH SECURITY door and door jamb reinforcement products ever developed in the world today. The REBAR DOOR SECURITY DEVICE is a precision made high tech, 14 gauge heavy duty steel door, door frame and door jamb reinforcement strike plate and metal shield that fits all standard residential doors and door frames. The REBAR DOOR SECURITY DEVICE is easily installed right over top your existing door frame and jamb lock strike plate in a matter of minutes and are securely anchored in place using up to 12 three inch heavy duty screws that penetrate deep into the existing door frame wall studs. DIY door frame repair, door jamb repair and door casing repair from a kicked in door can be done quickly and affordably with the REBAR DOOR SECURITY DEVICE. Calling a door repair professional out to your home to fix a kicked-in door jamb can cost upwards of $1000. An ounce of prevention is worth a pound of cure. The REBAR Door Security Device is the BEST Door Frame and Door Jamb Reinforcement money can buy!
Installation of the REBAR DOOR SECURITY DEVICE takes 15-30 minutes. There is no need to cut away or alter your existing door frame for installation. The REBAR DOOR SECURITY DEVICE quickly laminates your existing soft wood door frame, instantly converting it into a solid metal door frame with insurmountable strength and durability making it kick-proof. The REBAR Door Security Device is proudly made in Canada from heavy duty 14 gauge solid steel, an incredible 1/16" THICK, 5 different models to choose from that range from 24-48 inches in length, 1¾" in width, has lockset cut outs spaced 4"-30 1/2" apart to fit almost every door and is powder coated white and can be painted ANY color to match your decor. KICKPROOF.COM has the best HEAVY DUTY reinforcements to prevent door kick ins on the market.
Compare Store Bought Door Reinforcement to The REBAR Door Security Device >
Warning Graphic Video
New Jersey Home Invasion
UNEDITED VERSION
CLICK ON VIDEO TO WATCH FULL VERSION
911 Caller-Woman Without
A Gun in Home Invasion
CLICK ON VIDEO TO WATCH FULL VERSION
Takes Less Than 2 Seconds
for Machine Gun Weilding
Gang of Home Invaders to
Kick-In Front Door
CLICK ON VIDEO TO WATCH FULL VERSION
Home Invasion Burglary
by Kicking-In Back Door
CLICK ON VIDEO TO WATCH FULL VERSION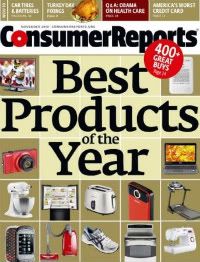 What Consumer Reports
Says About How to Add
Reinforcement for Front
Doors, Door Frames &
Door Jambs

Home Invasion Burglaries
are Increasing Daily and
Becoming More Violent.
You may be asking yourself
these questions...
How can I make my front
door more secure?
How can I protect myself
from a home invasion?
What is the best product
to stop home invasions?

Will my house alarm stop
a door kick-in?
How can I make my home
more secure?
Who makes the best door
lock, and is a strong dead-
bolt lock all I need?
How can I prevent my front
door from being kicked in?
How can I add strength
to my wood doors?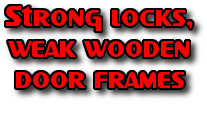 You can have the BEST
locks money can buy, but
if your door jamb and frame
is wood that is less than 1
inch in thickness, you are
NOT protected!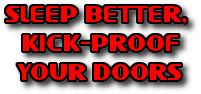 Would you and your family
sleep better knowing your
home was as secure as it
could be?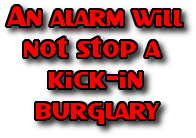 An alarm is a great added
feature to your layer of
home security, but the only
way to prevent a burglary is
to ensure that all possible
means of entry to your home
are fortified!